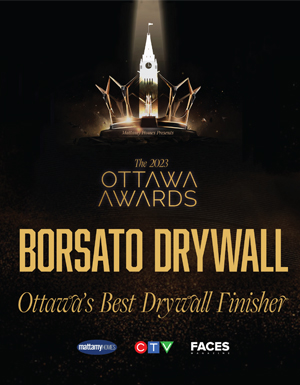 Borsato Drywall Inc. in Ottawa
Borsato Drywall Inc. has been providing quality drywall services to Ottawa, Carp, Kanata and surrounding areas for 25 years. We will handle any of your drywall needs from new construction to renovations.
Our organization provides a combination of a family oriented environment with clean abstracts and most of all Pride that can't be found anywhere else. Best of all the owner will always be on site to ensure quality control.
Looking for a professional drywall taper in Kanata, Carp, Ottawa or surrounding area?
You have come to the right place. Borsato Drywall Inc. is known for producing high-end quality results from our professional drywall technicians. Our staff consists of the best drywall hangers and finishers in the Ottawa and surrounding areas.
Most times in the trades this is considered to be an art form, and can make all the difference in the world on the appearance of your project. That is why we only use the best in the business.
People who hire us usually feel that professionalism goes a lot further than "cheap" pricing. We are not the cheapest and we are not the most expensive. However, we do stand 100% behind our work. Much of our business comes from referrals and we think that says something about us. You bring me your needs and your budget and we will offer a fair & competitive estimate. We don't just want you to hire us, we want you to hire us and then refer us!
Need a painter? Contact us as we know the perfect people.
Copyright © Borasto Drywall Inc. All rights reserved.